Advanced CEREC®
Dental Crowns

in

Holly Springs, NC

Do you have a bothersome, damaged tooth that's keeping you from enjoying everyday tasks such as eating and talking because of discomfort and tooth pain? Are you unhappy with the appearance of a few of your teeth? You don't have to settle for a smile that isn't functioning or looking its best. We proudly offer dental crowns to help you regain great oral health and a beautiful smile. Get in touch with our office to book your consultation!

Contact Us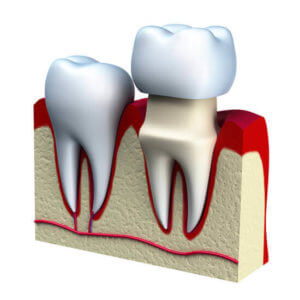 What Is a Dental Crown?
One of the most versatile restorations we provide at Springs Village Dentistry is the dental crown. Dental crowns (also known as tooth caps) are tooth-colored, porcelain caps that completely cover an existing tooth. They are used for both restorative and cosmetic purposes to get your smile back up and running in no time at all!
Reasons You May Need a Crown
Are you wondering whether or not dental crowns are the right restorative option for you? They are an extremely versatile treatment that can be utilized for a variety of dental issues, including:
Covering Aesthetic Tooth Imperfections
Protecting a Broken or Cracked Tooth
Replacing a Missing Tooth by Attaching to an Implant
Supporting a Weak Tooth
Strengthening a Tooth After Root Canal Therapy
& More!
The CEREC Process
Once we decide that a crown is the best choice for you, we'll prepare your tooth by removing some enamel. This step allows the crown to fit snugly between your existing teeth without looking bulky or out-of-place. Then, we'll take impressions of your tooth and color match the porcelain to your other teeth. Using our state-of-the-art on-site milling unit, we can design a 3D model of your new crown on our smile preview software and actually fabricate your crown right here at our office. This drastically shortens the amount of time that you have to wait to get your new crown. At our office, you can start enjoying the benefits of a restored smile in no time at all thanks to our CEREC technology!
Learn More
Affordable Crowns in Holly Springs
Restoring your smile doesn't have to break the bank. We offer a full suite of financial options to make crowns and our other dental treatments as affordable as possible. From accepting most insurance to working with third-party financing, we'll do everything we can to help you achieve a healthy, happy smile!
Schedule a Consultation