Dental Implants

in Holly Springs

Are you missing one or more teeth and in need of a strong replacement? Stop hiding your smile and restore it to its former glory with dental implants. Implants are a more permanent tooth replacement option than bridges and dentures, so your smile can look beautiful for years to come.

Schedule a Consultation
What Are Dental Implants?
Dental implants are small titanium posts that are placed into your jawbone in the empty space left by missing teeth. The implants are topped with a restoration such as a crown, bridge, or denture to then complete your smile. We use natural-looking restorations on top of dental implants, so your new tooth or teeth will blend right in with your natural teeth.
How It Works
First, we prepare the area for the implant. If an extraction is needed, we'll complete that. We can also perform a bone graft if the jawbone in the immediate area isn't strong enough to support an implant.
Next, we place the implant. The post is made of titanium and will bond with the bone to form a solid anchor for the restoration.
Finally, once the implant has fused with the bone, we create and place your restoration. For single implants, we typically place a dental crown. When there are multiple implants placed, we'll help you decide whether a dental bridge or a denture is the best restoration for you.
Benefits of Dental Implants
Compared to less permanent restorations, such as removable bridges and dentures that don't use implants, dental implants offer a number of benefits.
Permanent replacement of missing teeth (proper care helps them last for years)
Natural-looking
Restore full function of teeth (including chewing)
Easy to care for
Contact Us
---
Common Types Of Dental Implants
Single-Site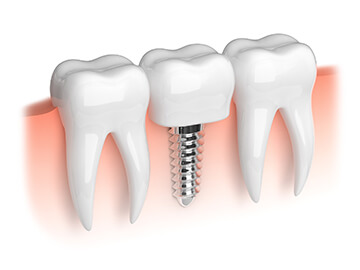 Get rid of the gap in your smile with a natural-looking replacement.
Implant-Supported Bridge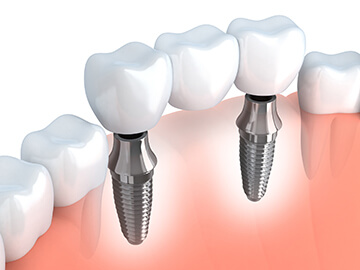 Replace multiple missing teeth in a row with an implant-support bridge.
Overdenture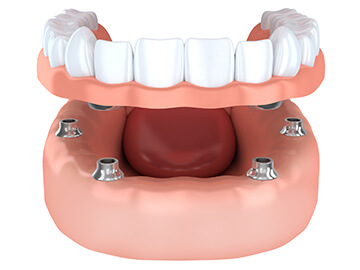 Stabilize your dentures for a better fit and increased comfort.
Are dental implants permanent?
Dental implants are considered a permanent dental procedure. The process begins with a titanium post being surgically implanted into the gums where it will fuse with the jawbone over the course of a few weeks in a process called osseointegration. This creates a very stable base for the artificial tooth to attach to. They cannot be removed except by a dentist, and should something happen to the artificial tooth, a new one can be easily created and attached.
Am I a candidate for implants?
Implants are an excellent tooth replacement for many patients, but there are some cases in which an implant may not work well. They are generally not recommended for children or teens because their jaws are still growing and developing. Patients who are heavy tobacco users may not be able to utilize a dental implant because they are more susceptible to bacterial infection, and patients with diabetes are at a greater risk for implant failure due to having a slower healing process. Finally, dental implants need to be implanted into healthy gums, so patients with periodontal disease are not always the best candidates. Regardless of your situation, our team will work with you to determine the best tooth-replacement option for your specific needs.
Are implants painful?
You should feel very little to no pain during the actual procedure because a local anesthetic will be applied beforehand to numb the gums. Since dental implants are considered more invasive than other restorative procedures, you can expect to feel some pain or discomfort in the days following your implant procedure. However, there are many things that can be done to combat the soreness, like using an ice pack, over-the-counter pain medication, and rinsing with a warm saltwater rinse. If you feel like your post-implant pain or discomfort is abnormal, feel free to reach out to our team so we can assess the situation.