Modern
Dental Bridges

in

Holly Springs, NC

Are you hesitant to speak or chew specific foods due to discomfort of missing teeth or fear of damaging an already weak tooth? A quick visit to our office can resolve your hesitation! Our quality dental bridges created by our experienced team to fit comfortably with your natural teeth can help you smile fully and stop restriction from simple everyday tasks. Get in touch with our office to book your consultation!

Contact Us
What is a dental bridge?
Dental bridges can replace one or several missing teeth. Typically, traditional bridges are the most common bridge used to restore teeth. This dental bridge has two or more crowns on each side with a filler tooth or teeth in between that connect. When placed, a bridge can restore your bite and help keep the natural shape of your face and teeth alignment.
How long do dental bridges last?
Bridges for teeth can last five years or longer with proper care and placement! The durable restorative option assures that you can comfortably speak and chew as if you had all your natural teeth. Brushing twice a day, flossing once a day, and visiting our office for regular exams and cleanings are essential for the longevity of your dental bridge.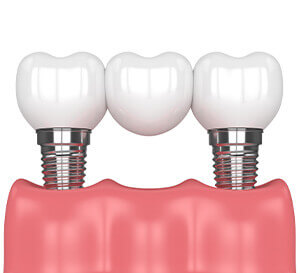 What is the difference between a dental crown and a bridge?
A quality dental bridge can replace weak or missing teeth, whereas a dental crown covers an existing tooth that is either weak or damaged. Bridges for teeth solely replace missing teeth and can bridge the gap of a smile. A dental crown can cap individual teeth to prevent further damage to their size, strength, and shape. These replacement tooth options can play a significant role in maintaining your oral health.
Affordable Dental Bridges in Holly Springs
Achieving a complete smile doesn't have to interfere with your budget. We offer a full range of financial options to make dental bridges and other restorative treatments affordable. We accept insurance for dental bridges and work with third-party financing to help you achieve a healthy smile!
Schedule a Consultation