Modern
Dentures

in

Holly Springs, NC

Whether you're missing most or all of your teeth, dentures can restore your smile! Our skilled, experienced team of dental professionals in Holly Springs has extensive experience in helping patients achieve a fuller, more youthful smile. No matter your age, we want you to be able to enjoy the benefits of a timeless smile. Contact our Holly Springs office to schedule your consultation!

Contact Us
Partial Dentures
If you're missing some but not all of your teeth, we can create custom partial dentures to replace them. Partial dentures consist of replacement teeth that are attached to a gum-colored base. The base has metal attachments so the denture can attach to your existing teeth for additional support.
Full Dentures
Missing a full arch of teeth can lead to severe jawbone loss, cause your cheeks and lips to sink in, and make it more difficult to eat and speak. Our team designs natural-looking full dentures to replace all of your teeth. Similar to partial dentures, we mold replacement teeth onto a base that looks similar to your natural gums. Full dentures can be held in place with a strong denture adhesive or dental implants.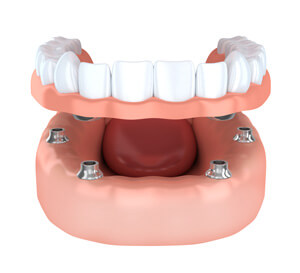 Implant-Supported Dentures
If you're looking for a more reliable way to keep your full or partial dentures from sliding or moving around, dental implants may be a great option for you. If you're a good candidate, we can surgically place dental implants (small titanium posts) directly into your jawbone. Dental implants act as replacement tooth roots and fuse with your jawbone. We can add abutments to your dentures to allow them to securely snap onto your implants.
Learn More
Are Dentures Comfortable?
When you think of dentures, you may picture an elderly man or woman struggling to keep them in place. However, that's not the case anymore! Thanks to advancements in dentistry, dentures are more comfortable and easy to maintain than ever before. Our skilled team will take precise impressions of your teeth, check the fit of your personalized dentures once our off-site lab creates them, and make adjustments to the fit as time goes on (if needed). Our goal is to make your denture experience as stress-free as possible!
Schedule a Consultation