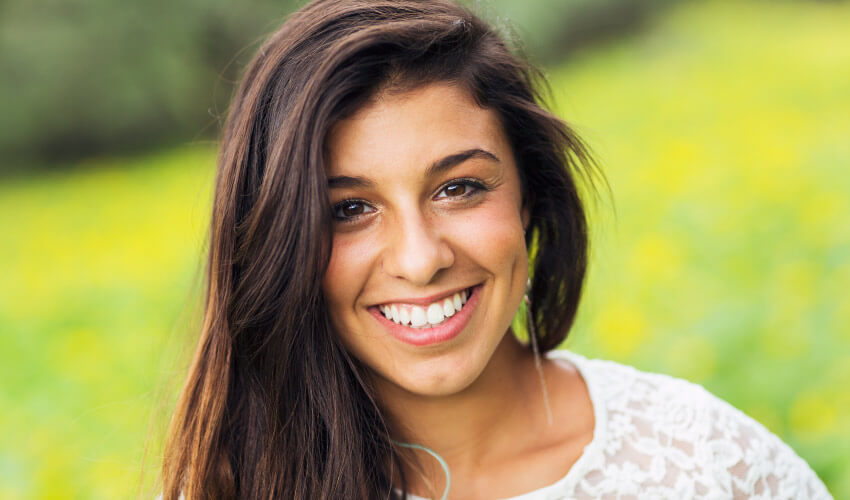 A dazzling white smile looks like a healthy and beautiful one. But with so many whitening treatments out there, how do you know which one is best for you? We'll take a look at over-the-counter options, our custom take-home trays, and our in-office professional whitening treatment so you can determine which one is the right choice for your smile goals.
At-Home Whitening
At-home whitening is either bought over-the-counter or is dentist-dispensed:
Over-the-Counter

Whitening toothpastes, activated charcoal, and baking soda are non-bleaching methods of whitening that work to lift surface stains by abrasion. However, charcoal hasn't been proven to be safe or effective, and baking soda may damage your tooth enamel if used too much. Enamel damage can actually lead to more staining in the future! Whitening toothpastes and strips can improve your smile slightly, but can't give you dramatic results. Strips are only effective on straighter teeth and their potency can be diluted with saliva.

Custom Take-Home Trays

Take-home kits from Springs Village Dentistry are made specifically for your smile. We take impressions of your teeth to create your trays, and we'll give you a professional strength gel that you will use in the comfort of your home and on your own schedule. This is a more effective option than over-the-counter whitening strips because the gel stays close to your teeth with less chance of leaking out.
In-Office Professional Teeth Whitening
In-office whitening dramatically alters your tooth color in just one hour because of its powerful yet completely safe formulation. At Springs Village Dentistry, we offer Zoom!® whitening, which consists of a whitening gel with a pH booster and a blue LED light that is customizable based on your personal needs. It is also great for sensitive teeth! In-office bleaching is convenient, quick, and can lighten your teeth by five to seven shades in one treatment. Bleaching isn't permanent, however, so you should brush and floss daily and limit or avoid eating and drinking certain foods and beverages in order to maintain your brilliant white smile.
Financing at Springs Village Dentistry
One thing to keep in mind when considering professional in-office whitening and take-home whitening is your budget. We're happy to discuss our whitening options further with you as well as what the costs for the individual procedures will be. We strive to make our services as affordable as possible and accept a variety of payment options, so know we are willing to work with you to tailor the perfect whitening plan for you.
Your Dream Smile Is Within Reach!
So what are you waiting for? Stop by our Holly Springs dental office and get the gorgeous smile of your dreams today. Contact us to schedule a consultation.
Schedule My Appointment